Let me start my story for the discovery of this recipe. Last Saturday was a special day for me because I became the main chef for the first time in life.  One of my friends found a new job and she decided to celebrate a small party with us. It didn't matter but the problem was I was asked for help in preparing for that party. I must confess that I was very bad at cooking and I am not interested in some girly things like cooking. Therefore, I felt reluctant to accept my friend's asking for cooking in her party. I don't know why she asked me when she knew that I was not very good at cooking. However, she said that "I can't find anybody else to help me and you are the only one I can ask" and this made me couldn't say anything. I started to worry about what I should cook for the party, then I started to search internet for recipes.
Finally, I randomly saw this cook beef stew recipe on a blog and found that this recipe would be really great for a cozy party with friends, then I decided to make it a try. Luckily, my dish was not too bad to throw out. However, to give myself more confident, I had tried this before I made for the party. I meant that the beef stew I made on that day was the second one and here was my way to cook it.
Ingredients: (serving for 6)
Boneless beef chuck – 3 pounds
All-purpose flour – 1/4 cup
Carrots – 4 and cut into thick slices
Potatoes  – 1 pound and cut into parts
4 onions – cut inton 1-inch chunks
Black pepper – 1 teaspoon
7 cloves garlic – chopped or smashed
Balsamic vinegar – 2 tablespoons
Tomato paste – ½ tablespoon
Instructions:
–  Preheat your oven to 325°F with rack in middle.
– Season beef generously with salt and pepper.
– Add 1 tablespoon olive oil into a pot and heat it until hot and shimmering.
– Add your meat into the hot olive oil and let your meat turn brown. You should divide the meat into 3 batches and fry it about 4 – 7 minutes per batch. You can add more olive oil if the meat is too dry and remember to turn its side with tongs then transfer meat to a large plate and set aside.
– Starting to add carrots, vegetables including potatoes, onions, garlic and balsamic vinegar.
– Add beef with juices which you have cooked before back to a pan and add flour to make your beef thicken.
– Add beef broth, wine, bay leaf, thyme, sugar and water.
– Continue to stir it well to loosen any brown bits from bottom of pan.
– Cover the pot with lid and start to braise for 2 hours in the oven. During two hours of waiting for the pot is ready, you can prepare for other meals or do other things.
– After two hours, you can remove the pot from the oven. It's time to open the pot and see whether the carrots, potatoes and meat are tender or not. If all are ready, you can taste it and adjust the seasoning if necessary.
This beef stew is alright to make the night before. Just cook, let it cool and store it in your fridge, and reheat it the next morning when you need to eat. Therefore, it is very convenient on busy days. Moreover, this beef stew is great to pair with bread and rice. It is very great to serve for a dinner with friends or a small party, right? This why I bet you will soon be in love with it.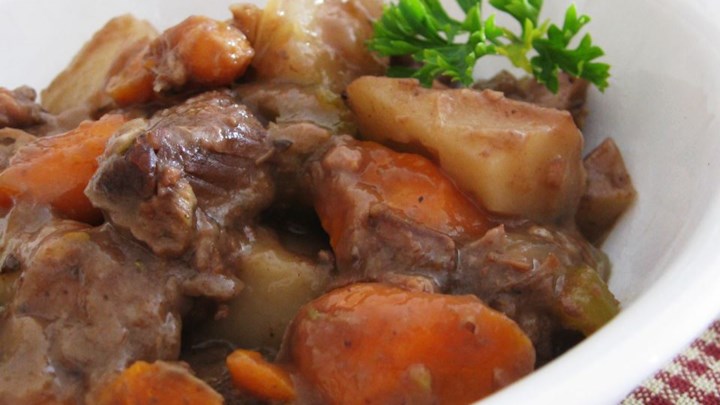 Nutrition Information:
This beef stew is not only so delicious but also has a lot of nutrients which can boost your energy to start your day of work.  Here are its nutrients.